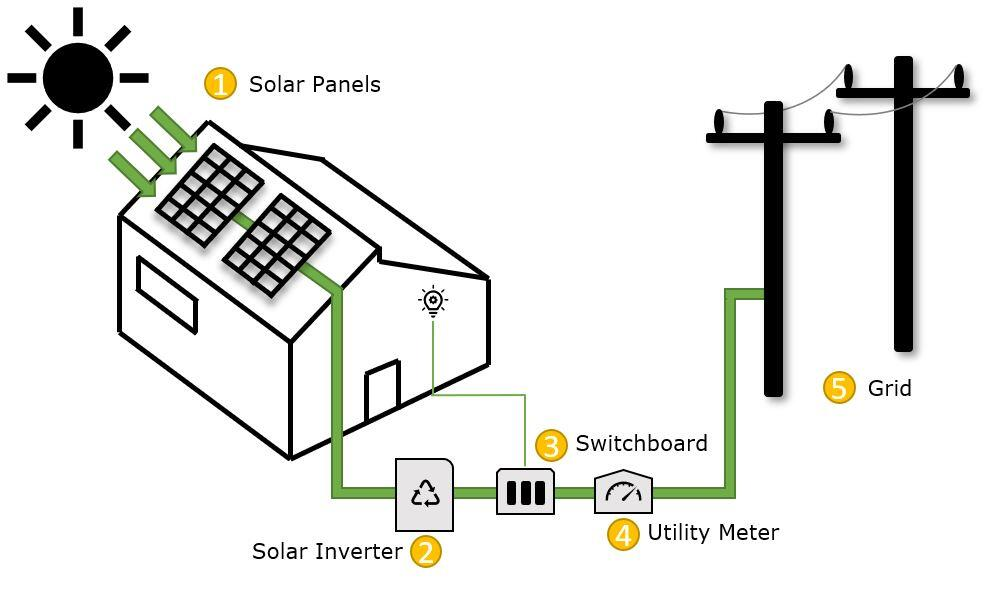 If you are going to get a solar power system installed on your home, we suggest you read this guide to understand the basics first. Solar Choice is an independent organization with no bias to product brands or different types of solar designs.
Grid-connected systems enable you to keep your connection to the grid to buy power at night-times (and when its cloudy). Your solar inverter will work harmoniously with grid power to intelligently use all solar power first and before drawing any power from the grid. Grid-connected solar systems also enable you to sell power back to the grid. Generally speaking, it is not feasible or economically viable to disconnect from the grid altogether.
Off-grid systems are a standalone power source including solar and batteries to provide a 24 hour power solution and not requiring any grid connection. These are more common in new construction projects in rural parts as often properties can be quoted over $50,000 to simply connect to the grid. In those scenarios, it can be economically and environmentally a better choice to put in a Solar and Battery standalone power system to support the new home. It will have a large upfront cost (usually min. $25,000) but power will be free from there-on through its lifetime.
Hybrid solar systems are grid-connected system that include a solar battery to store solar energy and reuse at times when there is no solar power (i.e. night-time). Solar Batteries provide an excellent back-up power source and an ability to make greater use of your solar power, however at their current pricing they do not offer a great return on investment. In fact, in 48 scenarios we recently modelled across every state in Australia, none provided a payback period under 8 years and most scenarios were over 20 years. Given a typical lifetime of a modern battery is 10 years, you can see why less than 1 in 10 households are currently installing a battery with solar.
Our company SankoPower Solar System can provide a better service for you. Give us a trust, we fulfill our duty. If you need to, we are exatly professional.